Ask a question or
Order this book
Browse our books
Search our books
Book dealer info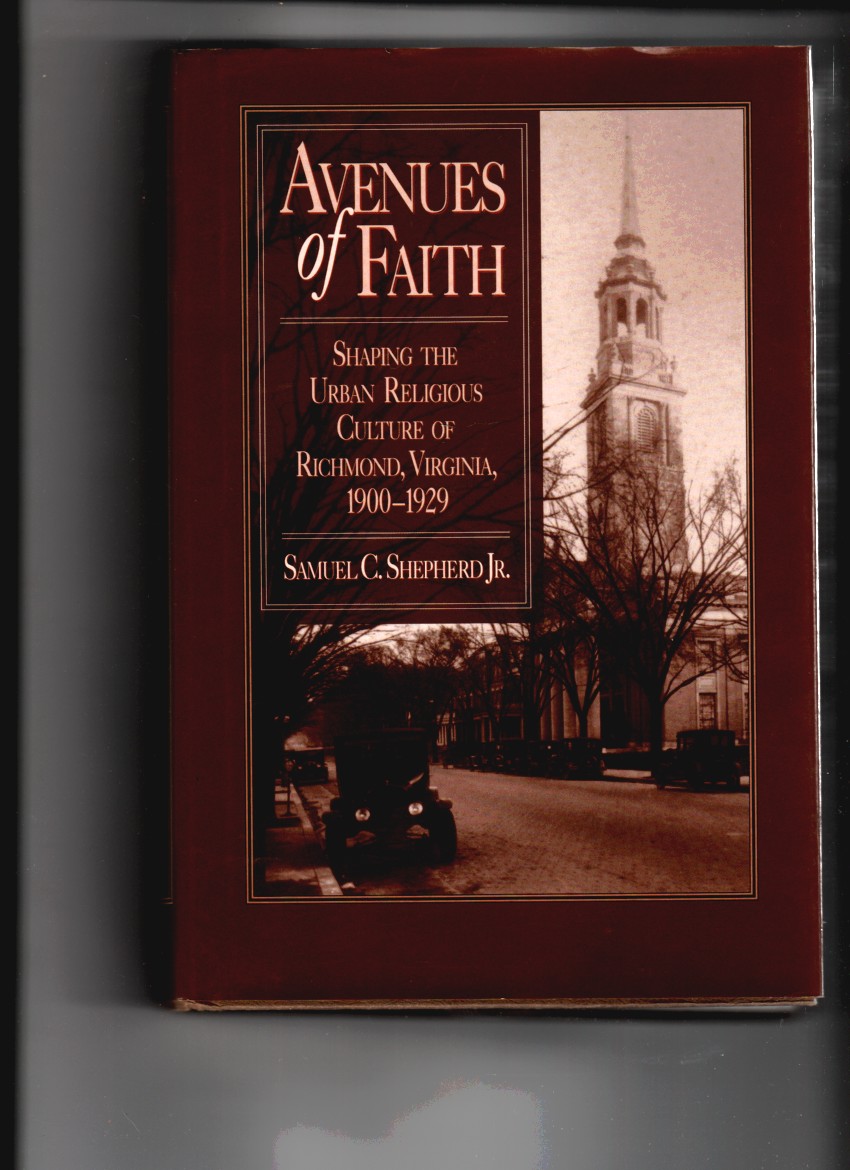 Author: SHEPHERD, SAMUEL C. JR.
Title: Avenues of Faith Shaping the Urban Religious Culture of Richmond, Virginia, 1900-1929
Description: University Alabama Press, 2001. Hardcover. ISBN: 0817310762. Avenues of Faith documents how religion flourished in southern cities after the turn of the century and how a cadre of clergy and laity created a notably progressive religious culture in Richmond, the bastion of the Old South. Famous as the former capital of the Confederacy, Richmond emerges as a dynamic and growing industrial city invigorated by the social activism of its Protestants. By examining six mainline white denominations - Episcopalians, Methodists, Presbyterians, Baptists, Disciples of Christ, and Lutherans - Samuel C. Shepherd Jr. emphasizes the extent to which the city fostered religious diversity, even as "blind spots" remained in regard to Catholics, African Americans, Mormons, and Jews. Shepherd explores such topics as evangelism, interdenominational cooperation, the temperance campaign, the Sunday school movement, the international peace initiatives, and the expanding role of lay people of both sexes. He also notes the community's widespread rejection of fundamentalism, a religious phenomenon almost automatically associated with the South, and shows how it nurtured social reform to combat a host of urban problems associated with public health, education, housing, women's suffrage, prohibition, children, and prisons. In lucid prose and with excellent use of primary sources, Shepherd delivers a fresh portrait of Richmond Protestants who embraced change and transformed their community, making it an active, progressive religious center of the New South. Our photo's/scans are of the actual item being sold, not a borrowed image! We provide tracking and ship daily or next business day!; Religion & American Culture; 1.33 x 9.6 x 6.46 Inches; 520 pages. Very Good in Very Good dust jacket .
Keywords: 20th Century United States Americas History Books State & Local Virginia Protestant Church History
Price: US$

11.97

Seller: A Book Legacy

- Book number: 63905
See more books from our catalog:
Virginia: : Religion