Ask a question or
Order this book
Browse our books
Search our books
Book dealer info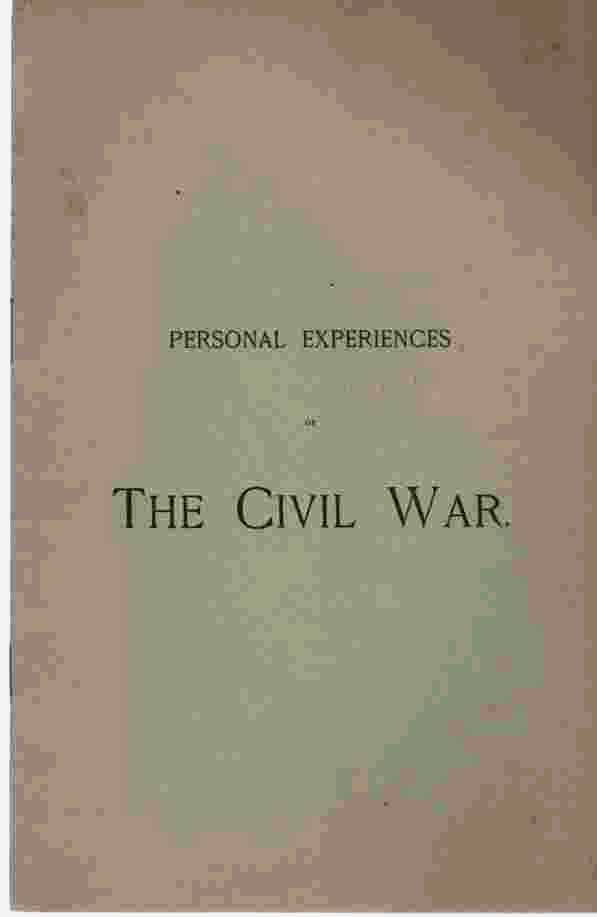 Author: SEWARD, JANET W.
Title: Personal Experiences of the Civil War
Description: Worcester, Ma: F. S. Blanchard & Co, 1899. First Edition; First Printing. Paperback. ISBN: 1166553507. This is the original 1899 printing. Janet Seward was the wife of Brigadier General Willam Henry Seward, Jr. who's father was the Governor of New York. Brig. General Seward was also an American Banker from Auburn, N.Y. He left banking on August 22, 1862 to join the Union Army in the U.S. Civil War. "Seward was appointed lieutenant colonel of New York's 138th Infantry Regiment, which became the 9th New York Heavy Artillery Regiment in December 1862. The regiment served in the defenses of Washington, D.C. until it was converted back to an infantry regiment and sent to the Army of the Potomac because of the losses sustained by that army in the Overland Campaign.[2] After fighting at the Battle of Cold Harbor, Seward was appointed colonel of the regiment on June 10, 1864. A few weeks after Seward's promotion to colonel, his regiment was sent north to meet the threat to Washington, D.C. posed by Confederate Lieutenant General Jubal Early's Valley Campaigns of 1864. Seward was slightly wounded in his arm and suffered a broken leg when his horse fell on him after the horse was shot at the Battle of Monocacy on July 9, 1864. He was promoted to brigadier general on September 13, 1864 and in January 1865 was assigned to command a brigade in the Department of West Virginia, which he did until April 1865. He was thereafter known within his family as "The General". Seward commanded the 3rd Division for 6 days after Confederate partisan rangers captured Brigadier General George Crook on February 20, 1865." (Wikipedia) The contents of this booklet was written by Mrs. Seward for "The Fortnightly" a a Woman's Literary Club in Auburn, N.Y. Ianuary 20, 1898. Mrs. Seward acompanyed President Lincoln and her husband's cousin Col. Seward on an inspections of the works around Washington. Book now in archival sleeve to protect condition. A rare piece of Civil War memorabilia. Our photo's/scans are of the actual item being sold, not a borrowed image! We provide free delivery tracking and ship daily or next business day!; Photograph; 8vo 8" - 9" tall; 22 pages. Very Good with no dust jacket .
Keywords: William Seward History Americana
Price: US$

49.97

Seller: A Book Legacy

- Book number: 61199
See more books from our catalog:
Military: : Civil War