Ask a question or
Order this book
Browse our books
Search our books
Book dealer info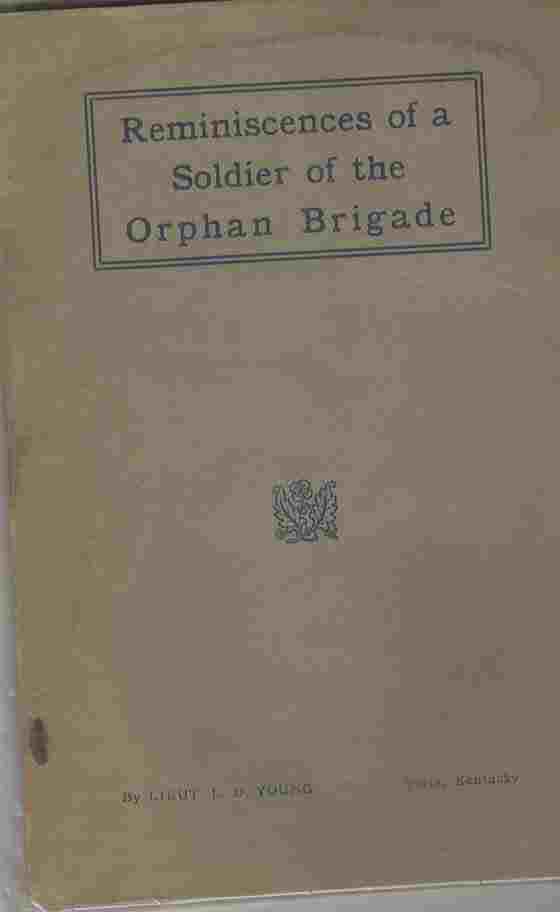 Author: YOUNG, L. D. LIEUT.
Title: Reminiscences of a Soldier of the Orphan Brigade,
Description: Courier-journal job Print. Co, 1918. First Edition. Paperback. Original 1918 edition. Brown paperback has water staining to pages but does not affect readability. Dedicated to "those who wore the Gray and to their children and children's children". Author was from Paris KY Includes recollections of the Battle of Shiloh, the Bombardment of Vicksburg, Murfresesboro, the Battle of Chickamauga, and Lookout Mountain, Missionary Ridge, Dallas, and Atlanta. Lt. Young was from Paris, Ky. Also has the poem entitled "The Orphan Brigade" by Prof. N.Shaler of the Federal Army. The Orphan Brigade was the nickname of the First Kentucky Brigade, a group of military units recruited from the Commonwealth of Kentucky to fight for the Confederate States of America during the American Civil War. The brigade was the largest Confederate unit to be recruited from Kentucky during the war. Its original commander was Major General John C. Breckinridge, former Vice President of the United States and candidate for President, who was enormously popular with Kentuckians. Book now in archival sleeve to protect condition. Rare.; 12mo 7" - 7½" tall; 99 pages. Very Good with No dust jacket as issued .
Keywords:
Price: US$

39.97

Seller: A Book Legacy

- Book number: 61112
See more books from our catalog:
Military: : Civil War