Ask a question or
Order this book
Browse our books
Search our books
Book dealer info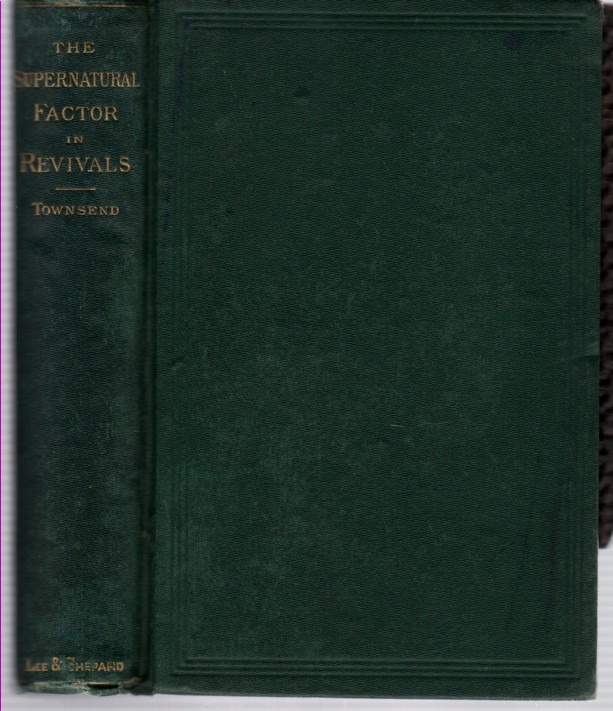 Author: TOWNSEND, L.T.
Title: The Supernatural Factor in Religious Revivals
Description: Boston, MA: Lee and Shepard, 1877. First Edition. Hardcover. Original 1877 Green hardcover with gold lettering. Not a reprint or POD.Cover shows wear and fading. Contents clean with browning starting due to age. "Reverend Luther Tracy Townsend (September 27, 1838 - 1922) was a professor at Boston University and an author of theological and historical works" Wikipedia.Author also wrote Credo, Lost Forever, God-man, TheArena and the Throne, and others. Contains surveys of famous revivals in history, individual experiences, Evangelist and revival agencies such as Moody and Sankey, women evangelist. Has a section on The Holy Ghost: His work beyond the limits of Christendom. Rare. Our photo's/scans are of the actual item being sold, not a borrowed image! Item now in archival sleeve to preserve and protect condition. We provide tracking and ship daily or next business day!; 12mo 7" - 7½" tall; 311 pages. Very Good with no dust jacket .
Keywords: Sanctification Holiness Revivals Preaching Evangelism Prayer
Price: US$

99.97

Seller: A Book Legacy

- Book number: 51616
See more books from our catalog:
Religion: : Revival