Ask a question or
Order this book
Browse our books
Search our books
Book dealer info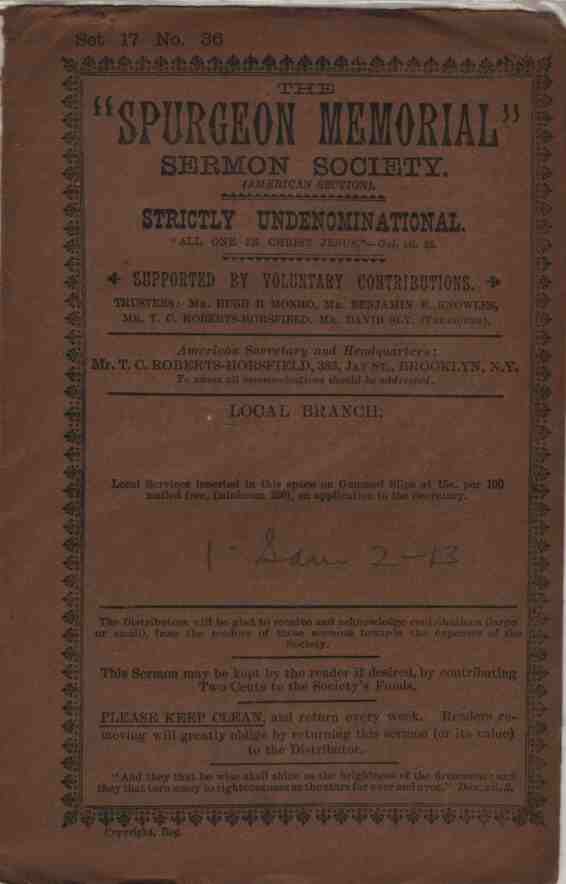 Author: SPURGEON, C. H.
Title: The King's Weighings a Sermon Delivered on August 26, 1883
Description: Brooklyn NY: The Spurgeon Memorial Sermon Society, 1883. First Edition; First Impression. Paperback. Set 17 #36 in series. Brown paper cover with black lettering. The sermon is printed and stapled inside this cover. A very collectible historical imprint of Charles Spurgeon distributed by the American Section of the Society. Covering may have chips and minor writing, otherwise very good to fine condition.This booklet is protected by an archival quality sleeve to maintain present condition. Rare booklet intended for distribution, ciculation and return to the Society for re-circulation. Booklet Paperback may indicate a booklet, phamplet, tract or book. Charles Haddon Spurgeon (1834-92) was England's best-known preacher. Spurgeon remains highly influential among Christians of various denominations, among whom he is known as the "Prince of Preachers". He was a strong figure in the Reformed Baptist tradition. In 1854, just four years after his conversion, Spurgeon, then only 20, became pastor of London's famed New Park Street Church, later the Metropolitan Tabernacle where he pastored for 38 years. Spurgeon frequently preached to audiences numbering more than 10,000 people.His oratory skills are said to have held his listeners spellbound in the Metropolitan Tabernacle and many Christians hold his writings in exceptionally high regard among devotional literature.; Metropolitan Tabernacle Pulpit, Set 17, #36; 8vo 8" - 9" tall; 11 pages. Very Good with no dust jacket .
Keywords: Spurgeon Sermons Preaching Christian Collectible Rare
Price: US$

14.97

Seller: A Book Legacy

- Book number: 46632
See more books from our catalog:
Religion