Ask a question or
Order this book
Browse our books
Search our books
Book dealer info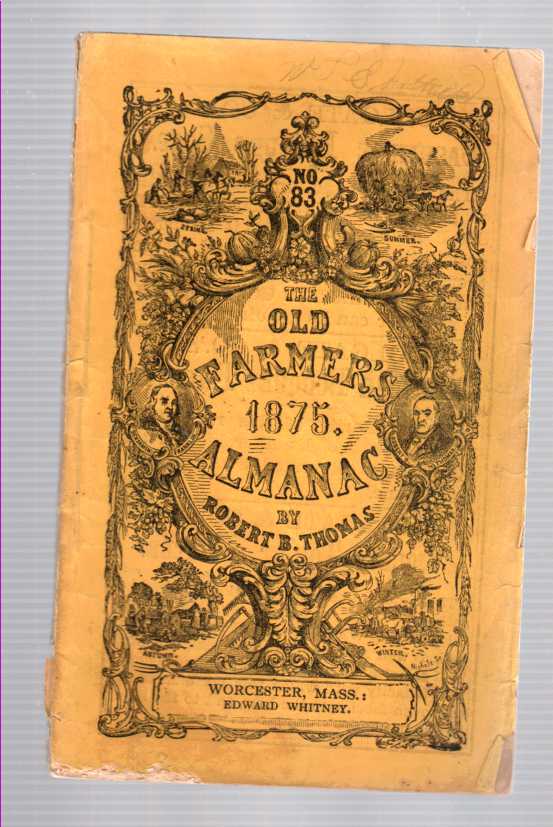 Author: THOMAS, ROBERT B.
Title: The Old Farmers's Almanac, 1875, No. 83
Description: William Ware & Co, 1874. First Edition. Paperback. Original printing. Worn with chips in page ends, otherwise very good. "Fitted for Boston, but with answers for all the New England States". Containing, besides the large number of Astronomical Calculations, and the Farmer's Calendar for every month in the year... Wonderful AdsWe provide delivery tracking on US orders. an annual calendar containing important dates and statistical information such as astronomical data and tide tables. An almanac (also spelled almanack and almanach) is an annual publication listing a set of events forthcoming in the next year. Almanac's are among (if not the only) the oldest periodicals continuously published in the United States.Robert Bailey Thomas was born in Grafton, Massachusetts, on April 24, 1766. He and his younger brother, Aaron, lived with their parents on a farm, where they grew vegetables and fruit.In the summer of 1792, Robert traveled to Boston to study with Osgood Carlton, a mathematician. By the end of August, Robert had completed all of the astronomical calculations for the next year. Those calculations became the basis of his first almanac -- The Farmer's Almanack. Robert printed 3,000 copies of his first Almanac and priced it at nine cents. It was a best-seller! He went on to publish The Farmer's Almanac for 54 years. In 1832, he added the word "Old" to the title.Thomas said an almanacs purpose was "to be useful with a pleasant degree of humor."; Vol. 83; Illustrations, Tables, charts; 12mo 7" - 7½" tall;. Fair with no dust jacket .
Keywords: Almanac Boston Farming Americana Agriculture
Price: US$

16.97

Seller: A Book Legacy

- Book number: 3009
See more books from our catalog:
Americana: : Almanac