NORBERG, MATTHIAS: - Selecta opuscula academica. Three volumes. Lund, Berlingianis, 1817-19.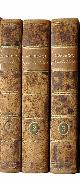 . Pp. (viii), 385, (1); (iv), 583; (vi), 604, (2). Pagination irregular but text is complete. Contemporary half calf on marbled boards, flat spines ruled in gilt and with title labels (on with number lost), rubbed. Old ownership signature. Occasionally some staining. A compilation of orations, essays and dissertations in various subjects. Including several devoted to Arabic, Hebrew, Persian, Egyptian, Indian etc. subjects. Some are improved by Norberg's corrections and / or comments.


EUR 300.00 | CHF 323.5] Buchzahl 120306

wird angeboten von:





Dieses Buch bestellen?
Bitte um Informationen
Zurück b> zu Ihre Suchergeschichte