AL-MAHDË AL-HIFNAWI, MUHAMMAD / MARCEL, JEAN JOSEPHE (TRANSL.): - Contes de Cheykh El-Mohdy, traduit de l'arabe le manuscrit original. Three volumes. Paris, Henri Dupuy, 1835.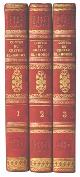 . Pp. (ii), 484; (iv), 496; (ii), 508. With 25 engraved plates and many vignettes in the text. Partly with some staining. Contemporary red paper-covered boards, red morocco spines with four raised bands, lettered and decorated in gilt, lightly rubbed. A collection of fables in the same genre as the Arabian Nights translated into French from an Arabic manuscript by Marcel. Jean Josephe Marcel (1776-1854) was a French orientalist and pupil of Silvestre de Sacy. He was commissioned by Napoleon to manage the national printing press in Egypt during the French expedition in 1798-9. After his return he was placed in charge of the l'Imprimerie Impériale in Paris. During his stay in Egypt Marcel received the manuscript of these tales from his friend Al-Mahdi, the secretary general of the Divan of Cairo, who Marcel beleived to be the author. However, this has not been proven and some people beleive that Marcel might be the author himself. The collection comprises two parts: I. "Les dix Soirées malheureuses d'Abd-errahman êl-Iskanderany" (volume one) appeared first in 1829; II. "Séances du Moristan, ou les Révélations de l'Hôpital des Fous du Kaire" (volumes 2 and 3) appeared in 1832-3. Cf Gay 132.


EUR 1000.00 | CHF 1109] Buchzahl 120155

wird angeboten von:





Dieses Buch bestellen?
Bitte um Informationen
Zurück b> zu Ihre Suchergeschichte